Our company has extensive experience in executing projects related to public use over the past 20 years. We specialize in comprehensive preparation of the ground for safe surfaces and the installation of synthetic surfaces. Our services encompass both tile installation and surface pouring.
The main component of our surfaces is SBR material, which is rubber granulate that provides excellent safety and shock absorption properties. We also utilize EPDM granulate to achieve the effect of multi-colored fields or patterns on the surfaces. This addition allows us to create visually appealing and aesthetic surfaces that also meet safety requirements.
Our company ensures high quality execution and carefully selects materials to provide durable, resilient, and safe surfaces. With our experience and professional approach, we can meet diverse requirements and expectations of customers in the field of safe surfaces.
If you have any questions or need further information, I am at your disposal.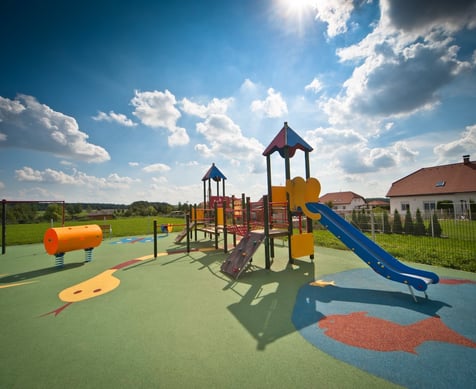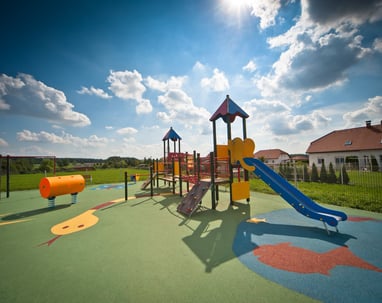 Flexible SBR surfaces have many advantages that contribute to their popularity and effectiveness. Here are some of the key benefits of SBR surfaces:
Installation on aggregate sub-base: SBR surfaces can be installed on an aggregate sub-base, reducing installation costs compared to the need for a concrete sub-base.
High safety standards: SBR surfaces are certified with an HIC (Head Injury Criterion) value of 1.0 to 3.1m, indicating a high level of safety in the event of a fall.
Linear drainage system: SBR surfaces are equipped with linear drains that ensure laminar water flow, making the surface resistant to flooding and quick to dry.
Uniform structure: SBR surfaces have a consistent structure throughout their cross-section, eliminating edge curling and ensuring even usage of the surface.
Interlocking hole drilling technology: This technology makes SBR surfaces resistant to tile sinking, guaranteeing durable and stable connections.
Anti-slip properties: SBR surfaces provide high traction and have anti-slip properties, increasing user safety.
Weather resistance: SBR surfaces are frost-resistant, can withstand varying temperatures, and have high thermal resistance, contributing to their durability and reliability.
Mechanical strength: SBR surfaces are mechanically robust, meaning they can withstand heavy loads and intense use.
Sound absorption: SBR surfaces have sound-absorbing properties, reducing noise and creating a more comfortable environment.
Self-cleaning properties: SBR surfaces have self-cleaning properties, making maintenance and hygiene easier to maintain.
Wide range of colors and designs: SBR surfaces are available in various colors and patterns, allowing for aesthetically pleasing and attractive playground designs.
Easy modular installation