We are pleased to present you with our offer of safe and eco-friendly surfaces designed for playgrounds and recreational areas. Our products enjoy enormous popularity in Western European countries due to minimal maintenance costs, attractive price, and exceptional shock-absorbing properties, meeting the standards set in DIN EN 1177.
Our wood chip surfaces are an excellent alternative to sand surfaces that are difficult to maintain and require regular replacement according to sanitary regulations. They are also an attractive alternative to uncomfortable gravel surfaces and costly rubber and synthetic surfaces.
Wood chip surfaces are environmentally friendly and perform well in various weather conditions. They are fully permeable to water, which means that children can use the playground immediately after the rain without worrying about mud and puddles. The structure of the chips also allows easy movement for children in wheelchairs and comfortable pushing of baby strollers - thus, playgrounds can truly be inclusive!
Our surfaces provide a high level of safety, minimizing the risk of injury in the event of a fall. They meet the DIN EN 1177 standards and requirements for fall absorption, giving parents and caregivers confidence that children are protected while playing.
We ensure the high quality of our products and professional installation. Our team of experienced specialists is ready to adapt the surface to your individual needs and requirements.
If you have any questions or need further information, please contact us. We are happy to answer all inquiries.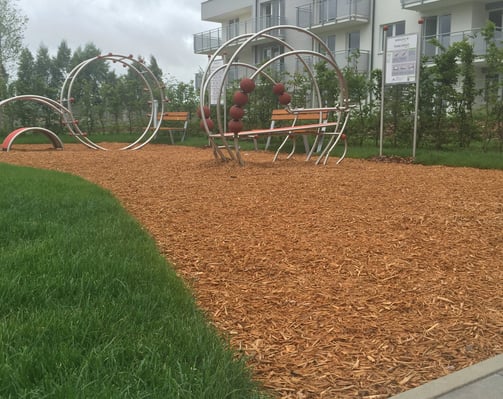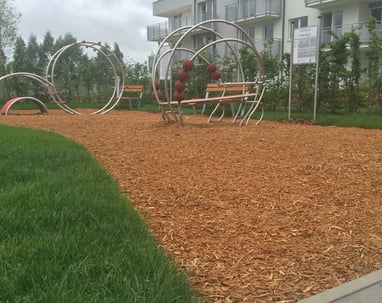 Wood chips meet the rigorous requirements of the DIN EN 1177 standard, and their ability to absorb falls is confirmed by tests and certificates. The material undergoes multiple checks during production, is free from toxic substances, and is safe for the environment and children using the playground.
The wood chip surface has been tested according to the DIN EN 1177 standard, and the HIC (Head Injury Criterion) test results for a surface thickness of 30 cm show that the maximum fall height is 3 meters. This attests to the high level of safety and protection of children while playing on the playground.
Here are the main advantages of the wood chip surface:
Ideal for any season: The wood chip surface does not freeze and is fully permeable to water. This allows children to safely use the playground all year round, even after rain, without worrying about puddles and mud.
Colorful and aesthetic: The wood chip surface is available in five colors to choose from, making every playground visually attractive. You can create interesting arrangements and colorful compositions.
Environmentally friendly: The chips are dyed with natural dyes, making them environmentally friendly. They do not contain toxic substances or harmful chemicals.
Easy and quick installation: The wood chip surface is easy to install, which reduces the costs associated with making the substructure, necessary for rubber surfaces. Quick installation translates into time and money savings.
Light and easy to transport: The wood chip surface is light and easy to transport. It does not require the use of heavy equipment, which reduces the risk of damage and makes it easy to adapt to places with difficult access.
Wood chips are an excellent solution for safe and colorful playgrounds, as well as for interesting arrangements of alleys and green areas in the city.
If you have any questions or need more information, please contact us. We are happy to answer all inquiries.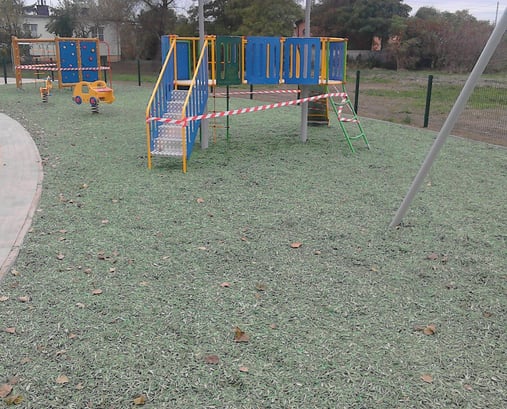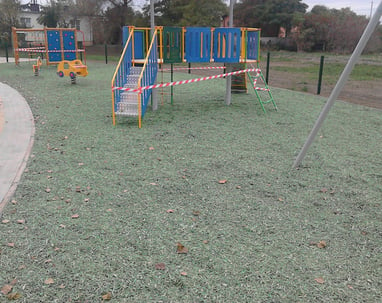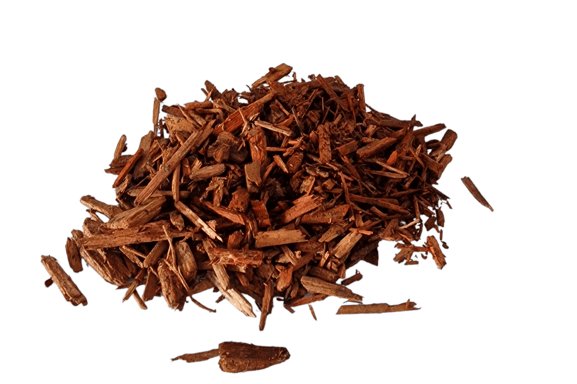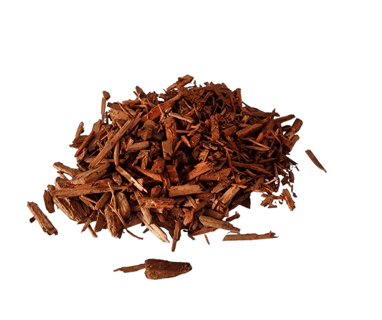 THICKNESS OF WOOD CHIP SURFACE - HIC HEIGHT (critical fall height)
20 cm - critical fall value is 2.2 m
25 cm - critical fall value is 2.7 m
30 cm - critical fall value is 3.0 m